End the overwhelm in your bookkeeping business.
Pure Workflow is a simple, easy-to-use workflow practice management solution which will help you manage your clients, deadlines, workflow and team with ease.
Forget about struggling to keep everything organized - with Pure Workflow, you can focus on what's really important: your clients.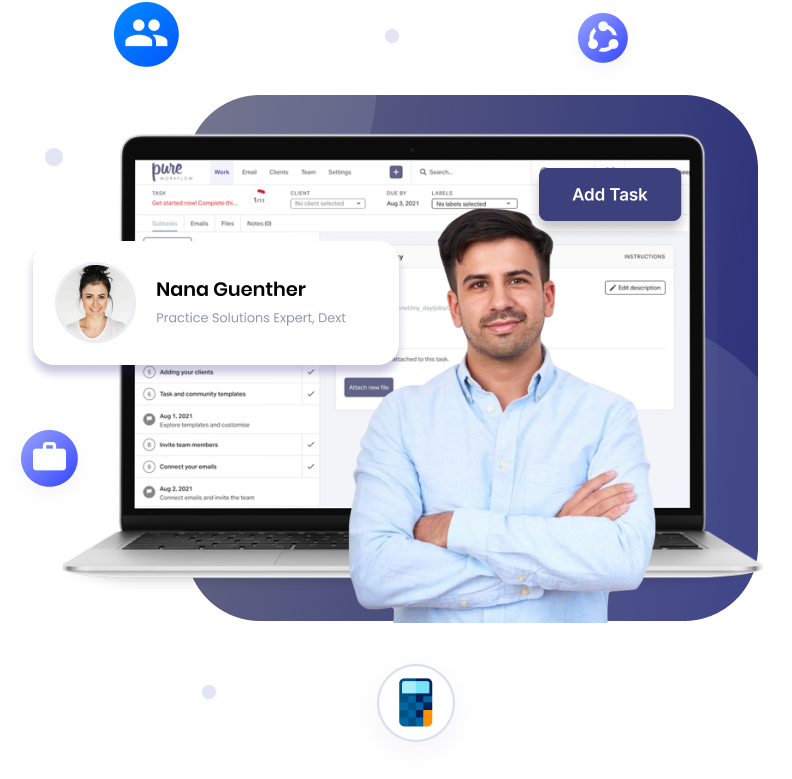 The Workflow Solution Exclusively For Pure Bookkeeping Licensees
I think it's going to change the world of bookkeeping. And I love that it's going to be continued to be developed by bookkeepers and accounting professionals specifically for us because we deserve that.
As a PB licensee for some months now, I have struggled with finding and let alone implementing a workflow system that would not only save me time but also tick all the boxes. When I was offered to test Pure Workflow, I couldn't be happier to have the stress of finding a system that works with what we do as bookkeepers and, in particular, the PB checklists. I really like the ability to integrate emails and work purely in the system, client by client, task by task, rather than getting distracted by other outside noise. With time management being the biggest conversation piece in our network, I can sense that PW will help to counteract most of this and I will feel a lot more organized! Thanks again for inviting me into the system.
It is a really good platform. And one of the things I absolutely love is that it's going to have email integration and I just love that because one of the things I find is we'll have an email come in from a client, for example, and it's copied to three or four people and then you don't know, 'Did somebody reply to this and they forgot to cc me?' So, it would be nice that everything is right there within Pure Workflow where you can see all the correspondence with that client.
Loved by bookkeeping firms with big ambitions!
Don't take our word for it. See what other small firms are saying about Pure Workflow.
Streamline your workflow with Pure Workflow Integrations
Here's what our clients have to say about Pure Workflow
Get your precious time back, reduce overwhelm and gain peace of mind
CRM & Client Management
Pure Workflow bookkeeping client management software gives you one central place to manage all of your client relationships and communications.
Task & Deadline Management
Pure Workflow offers everything you need to hit your deadlines, manage your to-do's and stay in control.
Practice Management Software
Pure Workflow's flexible reporting ability will allow you to manage your team and monitor productivity and business results.
Microsoft and Gmail Integration
Reduce email overwhelm, spend less time in your inbox and never again miss an adhoc request by creating tasks direct from an email.
Recurring Task Management Software for Bookkeepers
Set tasks to create automatically and recur on a weekly, monthly, quarterly or annual basis.
Bookkeeping Automation
Use some simple automation in Pure Workflow to save time and put your practice management on autopilot.
The Complete System for Bookkeepers
Exclusively for Pure Bookkeeping Licensees
---
Smart 2-way email integration with GSuite, Gmail, Office365 and Outlook.com
Email and task prioritization
Workflow automation and job scheduling
Automated email reminders
Deadline tracking
Team management reports
GDPR-compliant secure document exchange
Customizable fields and task templates
Thousands of integrations with Zapier
Comprehensive Checklists
Standard Operation Procedures
---
See it in Action
Do you still have some unanswered questions?
If you can't find the answer you are looking for please book a discovery call with our team - Click Here
Do you have templates and checklists?
Yes, all of the comprehensive Pure Bookkeeping Templates are preloaded and link back to the Pure Bookkeeping Standard Operation Procedures.

You and and your team will all be in sync delivering a faster, consistent and higher quality of service to your clients.
Not to mention a boost to your bottom line. 📈
What countries do you support?
We have documented procedures for the United States, Canada, Australia.

We have specific templates and procedures for QBO, Quickbooks Desktop and soon Xero.
Can I have as many clients as I like?
Yes! We are here to support you and your business. If it's taking off, rest assured we will not charge extra for it. In fact, we're delighted to see your business grow with Pure Workflow!
How many users can I have?
You can start at just yourself and work up to an unlimited number of staff.

We offer packages to meet you at every stage of your business. Whether you are just getting started, adding your first staff member or have a full team working with you.

You will deliver a better service, faster and with better profit margins.
What kind of support is offered?
It's our goal to ensure Pure Workflow helps you succeed.
We can give you a full product walkthrough, videos/documentation to follow, as well as live chat support in the app.
All new customers get a 30-day onboarding plan to help get you up and running asap!
Plus, we have several mentoring calls every week with bookkeeping business owners just like you supporting each other in a positive and productive environment.

We guarantee you will love our community and the resources we provide.
Does it integrate with QBO or Xero?
Pure Workflow's primary purpose provides a workflow management solution to manage your business' workload and to-do lists.
As such, it doesn't have a direct integration with QBO or Xero, but you can create an indirect integration using Zapier.
We have several users that use Zapier to connect many different apps to enhance efficiencies.